A couple of weeks ago at the 2019 Tokyo Motor Show, Daihatsu showed off a new then-unnamed B-segment crossover SUV. Many of us speculated that this might form the basis of DreamEdge's first vehicle, but it's most likely going to be used by Perodua to fight off the X50 at a lower price point (click that link for drivetrain details on the Rocky). Regardless of how it eventually turns up on Malaysian soil, we were more interested in the product itself, as Daihatsu was pretty vague with things at the show itself – it wasn't even officially carrying a name at the time!
But now we have a whole product website detailing every little thing about this new 'Rocky'. Thing is it's all in Japanese. So we've taken the liberty of picking out the important bits for your reference here. It should give you an idea of how the Daihatsu Rocky is packaged and how a local manufacturer might think about configuring it when they get their hands on it.
Safety
Pedal Misoperation Control
Lane Keep Control
Lane Departure Warning
Advanced Light (Auto Headlights)
Blind Spot Monitor
Rear Cross-Traffic Alert
The Daihatsu Rocky uses the stereo camera system to carry out some of these functions, just like Perodua's A.S.A. But as you can see, the list of safety features has been widened here with the Rocky. Self-parking, Adaptive Cruise Control, BSM and RCTA have yet to be implemented on Perodua cars. Some of these are optional on the Daihatsu Rocky and may be too much of a cost issues once translated to a Perodua product.
Space for Occupants
Higher trim levels no red accents and have semi-leather upholstery. Otherwise, there's very little done here that's out of Perodua's local capabilities. The design language deployed here is a little more angular than Perodua's usual rounded interiors. A large floating infotainment screen too has yet to be used on a Perodua model. Otherwise, there are parts like the gear knob, front passenger airbag cover, handbrake lever and more that look like 100% OE Perodua parts.
Interior Features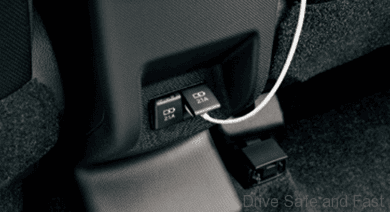 Luggage Storage Options
Just like Perodua, Daihatsu's products are all about maximum flexibility. They may build smaller cars, but they maximise the use of interior space and that's a large part of their appeal.
Colour options
The colours Perodua usually deals with are on the top row: black, silver and white. The others seem unlikely to show up here, except Laser Blue and Compano Red, which could be used as hero colours on the new SUV.
Two-tone Colour Options
Perodua has offered 2-tone colour options before on special editions of the previous Myvi and Kelisa. In both those cases, a black roof was one half of the deal, so this doesn't look like it's beyond Perodua's capabilities.
It's worth noting that the Daihatsu Rocky is built on the Daihatsu New Global Architecture (DNGA) underpinnings.